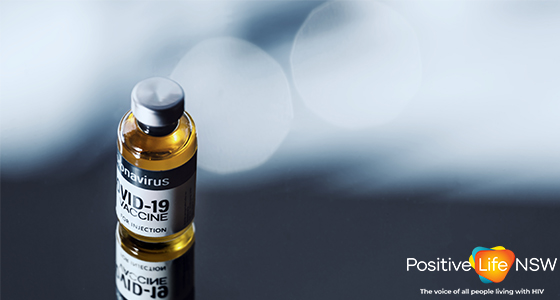 All people living with HIV are eligible to receive the COVID-19 vaccine under Phase 1b of the Australian Government's National COVID-19 vaccine rollout plan.
You can now make a booking for a COVID-19 vaccination via the online Healthdirect service (details below), or you can also contact your General Practitioner (GP) directly to explore your options for getting a vaccination.
Vaccine Eligibility Checker and Booking Service

The COVID-19 Vaccination Booking Service, operated by Healthdirect Australia on behalf of the Department of Health provides a 'one front door' where you can check your eligibility for Phase 1b and find out where to get a COVID-19 vaccine. You will be offered details for local clinics offering COVID-19 vaccine appointments, based on the postcode you enter and you'll be able to contact the clinic of your choice directly to make a booking to get your COVID-19 vaccination.
NB: The Australasian Society for HIV, Viral Hepatitis and Sexual Health Medicine (ASHM) is currently putting together a list of s100 prescribers who have been approved to be immunisation clinics, and we will link that list as soon as it is available.
Step 1
Visit the Healthdirect Vaccine Eligibility Checker and complete the questions on the interactive checklist.
Question 8 is Do you have an underlying medical condition? The answer to this for anyone living with HIV is 'yes'. HIV is explicitly stated on the list of underlying health conditions.
Step 2
Healthdirect will display the message:
Based on the information you gave us, you are eligible to book a COVID-19 vaccination.

We are currently in Phase 1b.

Phase 1b vaccinations will commence on 22nd March, 2021.

General practices, Aboriginal Community Controlled Health Services and GP-led respiratory clinics will begin to have appointments available, with numbers increasing over a 4 week period.

Click below to go to the Vaccine Clinic Finder to see clinics near you that will have the vaccine in this phase.
Scroll to the bottom of that page and click 'Make a booking'.
Step 3
To find COVID-19 Vaccination Clinics near you, enter your postcode or town into the dialog box and click 'search'.
You will be provided with a number of different clinics offering the COVID-19 vaccine, including address and contact details so you can contact the clinic of your choice directly to book a time.
While you are waiting to receive the COVID-19 vaccine, please review the information at this Healthdirect webpage. Positive Life NSW recommends that you take the time read over that information before you receive a COVID-19 vaccine.
Positive Life and the COVID-19 vaccine rollout
Positive Life is committed to supporting all people living with HIV in NSW through the COVID-19 vaccine rollout, with relevant and evidence-based information.
We are also available to support you to access the COVID-19 vaccine and explore your options around eligibility, disclosure or clinic availability. If you have any concerns about the COVID-19 vaccines, or experience any barriers accessing a COVID-19 vaccine please call us on (02) 9206 2177, 1800 245 677 (freecall outside metro) or email contact@positivelife.org.au
Who can I contact for more information?
The National Coronavirus and COVID-19 Vaccine Helpline is a reliable resource for all people who have questions about COVID-19 or the vaccine rollout. You will have the option of providing some extra details to the Hotline. The minimum amount of information you need to provide is your postcode. The Hotline can also provide you with answers via text.
National Coronavirus and COVID-19 Vaccine Helpline: 1800 020 080
If you prefer not to provide any extra details, that's your choice. The Helpline will allow you to remain completely anonymous.
You can also click here to ask the Australian Government about the COVID-19 vaccine directly. You will need to leave an email address to receive a response.